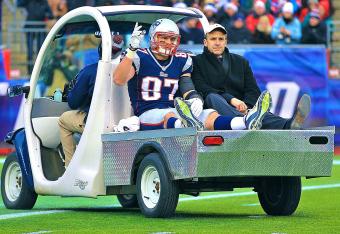 Injuries happen in sports. That's the nature of athletic competition. The questions isn't, is someone going to get hurt? But rather, when is someone going to get hurt? Who will it be? And how long are we going to be without them?
The injury bug can shatter a team's chance at success. The Chicago Bulls, a team that seemed to be on the cusp of asserting themselves as the best team in the NBA Eastern Conference, have been decimated by the losses of
Derek Rose
and
Luol Deng
over the past two seasons and seem poised to remain sequestered in irrelevance.
The Green Bay Packers, who have made it to the playoffs each of the last 4 years, stand on the outside of the NFL playoff picture looking in after the loss of All-Pro Quarterback
Aaron Rodgers.
Somewhere
Matt Hasselbeck
rejoices.
We're gonna take the ball and we're gonna... throw a game ending interception.
The Boston Bruins are currently missing
Chris Kelly,
Dougie Hamilton, Loui Eriksson,
and
Adam McQuaid
for substantial periods of time and consequently...
Oh wait... the Bruins are currently sitting atop the Eastern Conference with a three game lead over the Montreal Canadians with a game in hand... Okay so maybe that was a bad example, but they're the exception right?
I mean, let's take a minute to look at the Boston Red Sox. The Sox were missing their best hitter,
David Ortiz
for the first month of the season. Star outfielder
Jacoby Ellsbury
missed about 30 games. And arguably their best pitcher for the first half of the season,
Clay Buchholz,
didn't pitch from June until September. Clearly this level of injury should... come again... what's that? They... they won the World Series? Well... this is awkward...
Injuries don't phase you when your hair also sweats
Okay we can talk about the Boston Celtics. They're essentially a collegiate team, right? They brought in
Brad Stevens
from Butler to coach a team comprised of seven players who have three years or less of NBA experience. The fact that All-Star
Rajon Rondo
, undoubtedly the best player on the team, hasn't played all season means that... means that they are sitting at 10-13 yes, but are currently 4th in the Eastern Conference and have went 6-3 over their last nine games...
Well at least we can talk about the New England Patriots, right?
Danny Amendola
has been unable to shake the injury bug that has plagued him his entire career. After missing the first 6 weeks of the season
Rob Gronkowski
saw his season ended on a low hit by Browns' safety
T.J. Ward.
The defense is reeling after the loss of nose tackles
Vince Wilfork
and
Tommy Kelly
, and defensive captain/inside linebacker
Jerod Mayo.
The Pats can't hope to... what? Go 10-3 with a perfect 7-0 record at home through 13 weeks? Sit in 1st in the AFC East with a strong bid for a first round bye?
Somehow Boston's sports teams have been able to overcome injuries which would have decimated the majority of franchises in their respective sports. The loss of superstars, team leaders and playmakers has done little to slow down any Boston squad.
You can look to a variety of factors for answers: excellent coaching adjustments that take advantage of available personnel, deep farm systems and practice squads that emphasize the same play styles and responsibilities as their professional sides, key acquisitions by management to fill holes in the roster.
When it comes down to it there is no easy answer to the amazing way in which Boston's franchises have overcome injuries. They've used different methods, relied on different players and tried different strategies, but, put bluntly, they've simply found a way.
That simple phrase seems to embody what Boston is all about. When times get tough, when the chips are down, when tragedy strikes, this remarkable city bands together and finds a way. This year it seems like the organizations that represent Boston have taken that lesson to heart.
All of this of course begs one major questions. What the hell is really in that dirty water?
One part nitrogen, two parts used syringes, one part sweet sweet victory