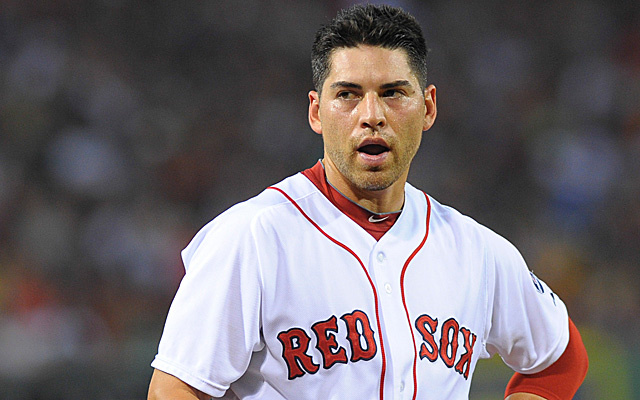 I'm grateful to
Jacoby Ellsbury
. I remember going to a Portland Sea Dogs game with my Grampy when Ellsbury was still in the minors. My Grampy looked at me and said, "Jordan watch him play, because trust me, he won't be here for long."
To say my Grampy was right would be an understatement and Ellsbury's career is a testament to that fact. He was a crucial part of two World Series runs. Defensively, he's played with reckless abandon, throwing his body around Fenway Park's outfield to make fantastic catches. He's been a terror on the base paths stealing 70 bases in 2009 and 241 over the course of his career. Finally, Ellsbury is one of only 34 players in MLB history to make it into the 30/30 (30 steals and 30 home runs in a season) club.
Yesterday, Ellsbury once again came through for me by deciding to leave the Sox. Yes, he went to the Yankees and people feel betrayed, but for Ellsbury, it makes sense. Yankee Stadium has a small outfield, meaning Ellsbury has less ground to cover defensively. The short porch in right could help boost his power numbers allowing him to remain and elite player as his speed dwindles. At 29, he becomes the youngest projected Yankee starter...
Let's take a second for that one to sink in.
And finally I'm sure it's hard to walk away from $153 million especially when
Scott Boras
is your agent.
That being said, Ellsbury is one of the most overvalued players in the league. He's a tremendous player, to be sure, but statistically with the exception of his speed, there is little to command the contract he got. To prove this point lets look at how Ellsbury compares to other free agent outfielders.
Ellsbury lacks power. His one 30 home run season must be considered an apparition at this point as he's never hit more than 10 dingers in any of his other six major league seasons. Over the past two seasons Ellsbury hit a total of 13 home runs.
Shin-Soo Choo
(37),
Curtis Granderson (
50),
Carlon Beltran
(56)
, Nelson Cruz
(51)
, Raul Ibanez
(48)
, Nate McLouth
(19)
AND EVEN
RAJAI DAVIS
(14)
have all shown more power than Ellsbury during that span.
Yes this Rajai Davis. That's the smile of a man who has more homers than Ellsbury.
That being said, as a lead-off man, Ellbury's job is to get on base. His career .297 batting average (BA) and .350 on-base percentage (OBP) are nothing to scoff at, but are also quite unremarkable. Granderson's batting average is only .261 but his OBP of .340 is comparable. Choo's career .289 average is impressive and his .389 OBP far surpasses Ellsbury's mark.
Beltran has a career .283 average and .359 OBP. McClouth is only a .250 hitter but has a career OBP of .334. Even
Chris Coghlan
(.337) and
Juan Pierre
(.343) have comparable career OBPs. Once again, Ellsbury's ability to get on base, while impressive, is by no means exceptional.
Defensively, Ellsbury deserves some credit. He's won the Gold Glove award and boasts a career .995 fielding percentage. But once again, this really doesn't make him special. McLouth also owns a Gold Glove and a career .991 fielding percentage. Beltran, although his centerfielding days are behind him, won three Gold Gloves at the position and has a career .986 fielding percentage. Even Granderson, who has never won a Gold Glove is a career .994 fielder.
Ellsbury is a solid centerfielder, but utilizes his speed to make up for average reads to track down balls that would otherwise fall. As he gets older and his speed declines, more of these balls will fall and its likely Ellsbury will need to move to right or left - as most centerfielders eventually do
The injuries speak for themselves. Jacoby has only played over 150 games twice in his full six years in the league. People have made the case that he played through injuries this past year, however he still missed 30 games and I don't buy it. It was a contract year, I don't know if this type of grit and determination will be there going forward. Ellsbury is also 29 years old and stands to lose his durability over time. It's sad for a player of such potential to have his production hindered by injury, but the fact is that there are some players who play 150+ games a season and those who don't, and Ellsbury doesn't look to be dethroning
Cal Ripken Jr.
anytime soon.
The one thing you can't take away from the man is speed. His 52 stolen bases topped the majors this year and every season he's been healthy Ellsbury has swiped at least 39 bases. But is speed worth $153 million? Davis has stole at least 29 bases for each of the last six seasons. In fact, during four of the last five seasons Davis has swiped at least 40 bags.
The other issue is that Ellsbury's speed is going to decline with age. Lets look at the all-time leader in stolen bases,
Rickey Henderson
. Between the ages of 20 and 30 Henderson stole at least 60 bases in each of eight full seasons he played. From the ages of 31 to 44 Henderson stole at least 60 bases only twice! If the greatest of all-time couldn't keep up his production, I'm sorry to say Ellsbury can't either.
I'm sad to see Ellsbury go, but the fact of the matter is that general manager
Ben Cherington
was right to let him walk (which ironically he didn't do enough of in Boston). You can't spend $153 million nor invest seven years in stolen bases alone. With this type of money it's conceivable that the Sox could go after another another outfielder. There is talk of the Sox pursuing a trade with the Dodgers for either
Matt Kemp
or
Andre Ethier.
More interestingly Choo's name has also come up over the past twenty
hours
. I'm hopping on the Choo-Choo train here. If the Sox sign Choo I will be the first one in line to purchase his jersey.
If this happens I will be the happiest Sox fan ever.
All I can say is thank you, Jacoby. It's been a great six years, you've given us the prime of your career and done so much for the organization and I wish you all the best with the Yankees. But now it's time for us to part ways and I think that it's for the best.